Hello and welcome to the Alternate History Wiki!

The Alternate History Wiki is a project for all communities concerned with creating fictional alternative histories. We hope you will feel at home here and wish you good luck contributing to our ever growing collection of alternative histories.

If you have no experience in editing wikis it is advisable that you first read our guide on making articles.
As an introduction to the phenomenon of Alternative History you can read our pages on Alternative History, Online Alternative History as well as Wikipedias article on Alternative History.
A list of all AltHists alphabetically sorted can be found here, a list sorted by Point of Divergence can be found here.
To sign your posts on talk pages use ~~~~ (four tildes). This will insert your name and timestamp. To insert just your name, type ~~~ (three tildes).
If you are in need of ideas to base your AltHist you might consider looking at our ideas page.
For an explanation of frequently used terminology please visit this page.
You can experiment in the sandbox.
All articles on this wiki take the following fomat: Name of article (Name of AltHist). This rule does not apply to the main article of your AltHist wich you can simply give the name of your AltHist.
For links to other Alternative History related sites visit our links page.
Please read the rules of our wiki.

Regards, NuclearVacuum (talk) 00:12, August 6, 2013 (UTC)
Re:Categories
No problem, always happy to help.
Re: 95T Kabul
Sure, it's totally alright. Go right ahead.
Sat (Talk to me!) 20:18, February 10, 2016 (UTC)
Thanks
Thank you very much, I did for a while but that was many moons ago! I'll definitely read more, but I just felt the aggression and arrogance shown was a little much for me. I fear those who do not study history forever claim to have mastered it, while those hat have studied history know how much there is to learn.
Anaei (talk) 23:53, February 14, 2016 (UTC)
Cromwell TL
No problem go ahead. Feel free to use any image also. --JorgeGG (talk) 02:35, February 18, 2016 (UTC)
Re: Delhi 95T
Fair enough on that
HawkAussie (Talk)

21:24, February 28, 2016 (UTC)
95T: Map Issues
Hi, My country Milan has annexed Mantua and this is not reflected in the map. It is the state on the right to milan. I would be thankful if this was changed. Thanks. Tomw1864 (talk) 19:56, February 29, 2016 (UTC)
Hey Sim, good job with you and Sky fixing stuff btw, really appreciate it. A few Portuguese posessions were missed out or misplaced in the map, so here's a corrected map of them (only Portugal's stuff is corrected, the rest of the map is outdated I think).
There's a few things that will be tricky to spot so here's a list.
Brazil colony
Cueta (opposite Gibraltar)
Papua New Guinea colony
Two ports on East African coast
Port in west Benin
A port in west India, as well as an island off the west coast
An island in the straits of Hormuz north of Oman
Malacca which is on the Malaysian Peninsula
Macau in china
And finally a bunch of Atlantic islands
Sorry for the long list, gimme a shout for any questions. Also if you and Sky need any extra hands in the running of the game, particularly in the mapping section, I'd be happy to help. Thanks, FP(Now 10% edgier!!!) 21:29, February 29, 2016 (UTC)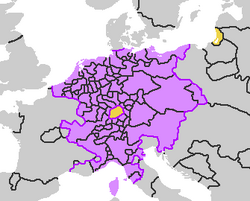 Hi Simmy1993, thank you for taking the initiative! I really admire that. Anyway, I play as Württemberg, and the extent of my territories is shown in yellow. — The Tim Man (TSW • AH • MGW • Contribs) 23:06, February 29, 2016 (UTC)
Hi. I know I'm kind of late on that, but I just have one issue with the map. My country (Kazakh Khanate) doesn't have any color. I honestly don,t care about the color, but it would be fun to appear on the map. Zamarak500 (talk) 23:47, February 29, 2016 (UTC)
Ninety-Five Theses (Map Game)
Why did the HRE became a mega war? I mean its just me Florence and Brunswick-Luneburg versus Württemberg, Rex changed his country from Saxony to Ayutthaya, the Ottoman Empire withdrawed from the HRE, Bohemia didn't join the war and the rest of the HRE protestant players haven't posted for two or three turns. Wrto12 (talk) 12:26, March 5, 2016 (UTC)
Heya! Due to the massive religious implications of the Proestant vs. Catholic, the campaign will allow everyone to join in in a logical way, rahter than a chaotic way. If it doesn't appeal to you after we begin we'll see how others feel. ~Simmy

What i meant is that there are way too few active player on the protestant side (Since Rex changed his country and the rest are inactive) only wurrtemburg and our side has about 4 active nations(players) Austria Poland Florence and and Brunswick-Luneburg so i dont think a Mega War is needed, when i doupt that Bohemia is gonna even join the war. Wrto12 (talk) 16:10, March 5, 2016 (UTC)
Actually WikiBuilder1147 and Belialoftheillusions want to quit their country due to that, the last active protestant player are about to quit due to the Mega War, now that might help me with the war and all, but its not fair...http://prntscr.com/abjn2hhttp://prntscr.com/abjpai Wrto12 (talk) 16:39, March 5, 2016 (UTC)
PMIV
Just to tell you I have left a response to your offer last year. Basically, I must seek approval from KK to marry one of your princesses as you are a Japanese protectorate and thus under their suzerainty (they can interfere with your foreign relations, even if you're internally autonomous). SORRY WRONG PERSON. – † ⌒⌒⌒\(;ᄋ;\)三(ノ>ᄉ<)ノ ~ ("니가먼저키스해!")
Swath vs Swathe
According to Wikipedia: A
swath
is strictly a noun and leaves or creates a strip of something or nothing while a
swathe
is both noun and verb that envelops, wraps what it encounters. Deciding which is which is complicated by the fact that the plural for
swath
can be either
swaths or swathes
.Feb 9, 2015 I won't go back and change it again, though. BilEoGuy and EoGuy99 
Community content is available under
CC-BY-SA
unless otherwise noted.