Hello and welcome to the Alternate History Wiki!

The Alternate History Wiki is a project for all communities concerned with creating fictional alternative histories. We hope you will feel at home here and wish you good luck contributing to our ever growing collection of alternative histories.

If you have no experience in editing wikis it is advisable that you first read our guide on making articles.
As an introduction to the phenomenon of Alternative History you can read our pages on Alternative History, Online Alternative History as well as Wikipedias article on Alternative History.
A list of all AltHists alphabetically sorted can be found here, a list sorted by Point of Divergence can be found here.
To sign your posts on talk pages use ~~~~ (four tildes). This will insert your name and timestamp. To insert just your name, type ~~~ (three tildes).
If you are in need of ideas to base your AltHist you might consider looking at our ideas page.
For an explanation of frequently used terminology please visit this page.
You can experiment in the sandbox.
All articles on this wiki take the following fomat: Name of article (Name of AltHist). This rule does not apply to the main article of your AltHist wich you can simply give the name of your AltHist.
For links to other Alternative History related sites visit our links page.
Please read the rules of our wiki.

Regards, Red VS Blue (talk) 04:23, July 9, 2014 (UTC)

Ok.MasherAntrex (talk) 20:04, July 9, 2014 (UTC)
Nope. As a result of you screwing around, you are officially banned from the game.MasherAntrex (talk) 12:33, July 10, 2014 (UTC)
Ask the others on chat.MasherAntrex (talk) 12:50, July 10, 2014 (UTC)
Toby2, Mscoree, Reximus55, etc.MasherAntrex (talk) 16:56, July 10, 2014 (UTC)
Land in Aragon
Hello, sorry but as Aragon is annexed and im currently running a huge empire im not allowing alot of my stuff to be played by other people. Especially in Europe. Its no offense to you or your ability as a map gamer im just fond of keeping things alot closer to me than most. My european possessions are more or less unplayable to others due to my personal preferences. Some things abroad i may be more willing to allow if youd like to discuss something of that Sort. Also please sign your posts with four tilds Feudalplague (talk) 22:06, July 10, 2014 (UTC) so i know who you are on my talk page The Wings of Freedom #FP
(Talk to Me)
No that isnt even allowed, your not even part of the Empire you dont have access to my Trade whatsoever. You dont gain any access to Navarran ports at all period. Stop posting like your getting things out of my empire when the contrary is obvious. The Wings of Freedom #FP
(Talk to Me)
You dont have a coast and hence cant have a navy, I dont have a trade agreement with you and your not a great power with the ability to Steal Trade like your trying to do. Its wholly implausible and hence was crossed out The Wings of Freedom #FP
(Talk to Me)
Im a Game moderator im allowed to cross out or remove anything deemed implausible and your being pretty implausible especially since we dont allow people to take anothers vassal without asking. Please Ask Sine if you can play as Andorra before you continue on. As for what your trying to do its ridiculous, all the territories your seeing as cores have been Linguisitically and Culturally Spanish for almost 100 years on this point. You have no cores there, You have no ability to steal my trade since your not a great power and you have no navy, i dont even trade with you. The Wings of Freedom #FP
(Talk to Me)
I dont think you realize, Andorra doesnt have cores through this game on anything youve listed, They are all compeatly Spanish in terms of Culture language, and integration. Your also a French vassal which means you need to ask the player, you also need to realize that Andorra can not and will not do anything of what your talking about plausibly. Especially since the royal family your trying to talk to was wiped out and is now my Own The Wings of Freedom #FP
(Talk to Me)
Some people just forget to add their names, sorry for any misunderstanding, thats why all of Andorras posts were previously under France. Sine himself told me he had vassalized it in order to prevent a conflict of me trying to do the same. So your going to have to ask him and drop the Whole Aragonese empire bit. That wont fly under the French The Wings of Freedom #FP
(Talk to Me)
Considering everyone is in agreement you need to talk to Sine about playing as Andorra, and the fact Andorra is currently not culturally related to any of the territory your asking for, not to mention im the most powerful Colonial empire on the planet.. I dont see any possible way for you as Andorra to do what your talking about. Even if Spain was still seperated it wouldnt be possible. The Wings of Freedom #FP
(Talk to Me)
Um you should care, you obviously have no idea how these games are played, and dismissing the Worlds two largest colonial empires with no consequence and acting like you can walk in and run the joint is not how things work. Please check the attitude and stop making assumptions that you can do things that frankly arent even remotely plausible/possible The Wings of Freedom #FP
(Talk to Me)
Alternative history is not a free pass to make implausible things happen. Nuff Said The Wings of Freedom #FP
(Talk to Me)
1848 game
Yes, you can join as Denmark.Whipsnade (talk) 23:13, September 9, 2014 (UTC)
Warning
Do not edit pages that you have not created. You may only edit the pages you have made, or if the page is a map game. Any time you break this rule you are a vandal, and can get banned. Please do not do that again. Thank you. Saturn (Talk/Blog) 07:26, September 10, 2014 (UTC)
Duplication
Greetings. Recently, you have uploaded a file on this site that is a duplicate of another. Please keep in mind that many of the files used on Wikipedia and Wikimedia Commons have also been uploaded to this site — with all of them having been uploaded under the same file names used on those sites (making it quite easy to locate any files you may need). If you are using the "Visual" mode for editing and uploading, please be advised that you will be required to use underscores (_) instead of spaces when searching for a file (e.g., "Flag_of_Canada.svg" and not "Flag of Canada.svg"). In the event that the file you acquire has not already been uploaded onto this site, than we highly recommended that you upload the standard file used on Wikipedia and/or Wikimedia Commons as a courtesy to current and future users.
The following uploads have have been removed from this site, and have been replaced with the following correct files:
Please try not to let this happen again. Do not re-upload this file. Do not remove this message from your talk page. Disciplinary actions will be taken if duplications continue. Thank you. -- NuclearVacuum

14:39, September 10, 2014 (UTC)
What you did wrong was upload a file which already exists on this site. This message is merely a warning and nothing will happen so long as this doesn't continue (so no need to worry all that much). So long as you follow the suggestions laid out than you should be fine. The ultimate "side effects" of continued duplication will result in a second warning and then the temporary suspension of your account following a third strike (with the amount of time being increased for every subsequent duplication). Right now you only have one strike but this will gradually go away (at which point the counter will start again). I do hope this helps out. If you require any more assistance, feel free to let me know. -- 

N

u

c

l

e

a

r

V

a

c

uu

m

16:18, September 10, 2014 (UTC)
You use the file I just gave you (File:Flag of Denmark.svg). -- 

N

u

c

l

e

a

r

V

a

c

uu

m

16:59, September 10, 2014 (UTC)
I edit everyone's pages.
Since I began on May 11, 2012 - over two years ago.
I have won the editing reward two years in a row.
Bil
EoGuy (talk) 20:22, September 10, 2014 (UTC)
1848 game
Yes you can join it, if it manages to relaunch.Whipsnade (talk) 20:15, September 23, 2014 (UTC)
Second Duplication
You have recently uploaded a second duplication onto this site.
As mentioned previously, duplicating files is not allowed as they already exist on this site. Since your last warning was in September, be advised that a third duplication within a similar time period will result in the temporary suspension of your account. Please try not to let this happen again. -- NuclearVacuum

15:48, November 8, 2014 (UTC)
Congress of Vienna - Reinstalled
You received this message because you have signed up for this map game.
The map game has started. However, because too few people have posted, we are keeping the first turn at 2 days. From the second turn onwards, it will be one turn per day. Please post as soon as possible.
I look forward to seeing your first post.
Regards, Laptop Zombie 03:56, November 9, 2014 (UTC)
Algorithm
I believe the "template" you are talking about is the algorithm which calculates the war outcome.
Yee, we do have such an algorithm.  It is here.
Regards, Laptop Zombie 16:50, November 10, 2014 (UTC)
I suggest we negotiate a settlement to the Albanian Revolt, before the rest of Europe decides to start grabbing Ottoman land, like OTL. Albania's claims are here.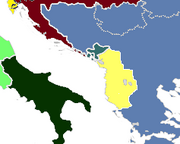 .Hoping we can work out a (somewhat) mutually beneficial settlement,
Shikata
ga nai!
00:12, November 11, 2014 (UTC)
Yeah... Russian and Piedmont are already aiding me. Additionally, you've already lost not one, but two algorithms. I've actually won enough to take Albania, most of Serbia, and Epirus. You have no troops in my capital or anywhere in Albania after two successive defeats. If you try to retake Albania, I won't hesitate to make Albania a protectorate of Russia or Piedmont. I think they'll be more cooperative. Shikata ga nai! 22:59, November 11, 2014 (UTC)
Bold Heart Map Game Host
Bold Heart Game Yes, I am the host of the Bold Heart Game, thanks for contributing.  --KhanTonto (talk) 00:31, November 12, 2014 (UTC)KhanTonto
By the way, they are a lot of run on sentences and spelling issues in your posts on Bold Heart, can you please take a look at your posts before you post them, it will help a lot. Thanks!
Merry Christmas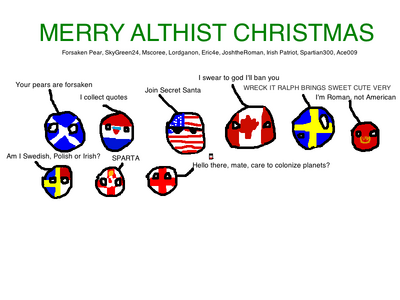 MERRY CHRISTMAS SERGIUSZ01
Secret Santa has commenced
Third Duplication (No Block)
You have uploaded two more duplications onto this site.
Since it has been years since you last uploaded any duplications, this message is simply a followup warning. Please try not to let this happen again. -- NuclearVacuum

19:10, July 6, 2016 (UTC)
No need to worry. Nothing is "noobish" and I'd be more than happy to help you out. The following is a set tutorial I've made which should help you out.
Here we go
Go onto Wikipedia or Wikimedia Commons and locate the exact file you wish to use. Example Link.
Locate and copy the file's URL. Example: https://commons.wikimedia.org/wiki/File:Flag_of_Canada.svg
On the page you are editing, select the "Image" tool. In the search box, paste the URL of the file you desire. The majority of the time, if the file you desire is indeed on this site, it should appear automatically.
If the Desired File Fails to Show Up
Return to the desired URL (step 2 from before). Rather than copying the entire URL, only select and copy the ending portions which possess the file's actual name (everything after the colon [:]). Example: Flag_of_Canada.svg
Past this portion of the URL into the search box and try again. Now you should [hopefully] see the desired file. Select and use.
If Both of These Systems Fail to Find Anything
This usually means the desired file does not exist or [rarely] was renamed by Wikimedia and now lost within our systems. Either way, go ahead and upload the file you wish to use.
PMIV Saxony
Hey Teutonician, thanks for joining PMIV - I look forward to working with you. Just letting you know, Lutheranism doesn't exist in PMIV by this point - we've had several Luther-like figures, but they're not *called* Luther. The main religions in the Holy Roman Empire are Northern RIte Catholicism and Latin Catholicism, which are joined together and kept peaceful by the Imperial Synod in Cologne (my country). Northern Rite Catholicism is more Lutheran/Protestant, but not separate from the Catholic church per se. If you have any further questions, please just drop me a note. :) Nonsensicaljourney (talk) 12:44, February 28, 2017 (UTC)
The Red Paper (Map Game)
I need to know if you have a decent knowledge of Chinese Warlord Era History and also if you do i may require your help with listing the various factions/warlords in the Nation list so came on chat to talk.             
Ungern Von Sternberg A Man's GREATEST Joy is Crushing his Enemies

16:31, March 5, 2017 (UTC)
Community content is available under
CC-BY-SA
unless otherwise noted.