Hello and welcome to the Alternate History Wiki!

The Alternate History Wiki is a project for all communities concerned with creating fictional alternative histories. We hope you will feel at home here and wish you good luck contributing to our ever growing collection of alternative histories.

If you have no experience in editing wikis it is advisable that you first read our guide on making articles.
As an introduction to the phenomenon of Alternative History you can read our pages on Alternative History, Online Alternative History as well as Wikipedias article on Alternative History.
A list of all AltHists alphabetically sorted can be found here, a list sorted by Point of Divergence can be found here.
To sign your posts on talk pages use ~~~~ (four tildes). This will insert your name and timestamp. To insert just your name, type ~~~ (three tildes).
If you are in need of ideas to base your AltHist you might consider looking at our ideas page.
For an explanation of frequently used terminology please visit this page.
You can experiment in the sandbox.
All articles on this wiki take the following fomat: Name of article (Name of AltHist). This rule does not apply to the main article of your AltHist wich you can simply give the name of your AltHist.
For links to other Alternative History related sites visit our links page.
Please read the rules of our wiki.

Regards, Monster Pumpkin (talk) 21:43, May 23, 2016 (UTC)
Duplications
Greetings. Recently, you have uploaded TWO files on this site that are duplications of others. Please keep in mind that many of the files found across Wikimedia have also been uploaded to this site — all under the same names and types. These files can easily be found by searching for the file's name in the search bar. If you are using the "visual" mode for editing and uploading, please be advised that you will be required to use underscores (_) instead of spaces when searching for a file (e.g., "Flag_of_Canada.svg" and not "Flag of Canada.svg" [do not forget to add the file type within the name]). In the event that the file you require is not already uploaded to this site, it would be very appreciated that you upload the standard file used on Wikimedia as a courtesy to current and future users.
The following uploads have have been removed from this site, and have been replaced with the following correct files:
Please try not to let this happen again. Do not re-upload these files or remove this message from your talk page. Be advised that while this message is simply a warning, continuing to upload duplications will result in the temporary suspension of your account. Thank you for your cooperation. -- NuclearVacuum
00:06, May 24, 2016 (UTC)
Act of Ambition
This is a notifcation to say Act of Ambition (Map Game) the map game which you signed up for has started and therefore you can now post your first turn on this new game. Person67 (talk) 18:01, May 31, 2016 (UTC)
I am going to do your algo now. So having read your post there a few details missing which I need to do the algo. 
1. How many troops are you (KMT) commiting?
2. So Xi'an is currently held by the PRC where did you mean by Xi'ai?
Second Duplication
You have recently uploaded a second duplication onto this site. As you have been previously informed, this is not allowed.
Please be advised that a third duplication will now result in the automatic suspension of your account for one week. Please try not to let this happen again. Thank you. -- NuclearVacuum
02:36, June 1, 2016 (UTC)
Re: Manila Talks
Hi Brick, I went to the Manila Talks and I saw that my proposals were removed, so I went to the history and discovered that you did it. I'm just wondering why it was removed. If you removed it because of the formating, it was like that because I made the edit on my phone and I intended to fix it later. Please don't do that again, thanks. KawaiiKame (talk) 18:09, June 8, 2016 (UTC) Ok KawaiiKame sorry I thought that you had just plopped it down in the middle of the discussion for my proposal and I meant to copy & paste it below my proposal, But didn't get around to it.... The.Brick.Battle (talk) 18:19, June 8, 2016 (UTC)
Third Duplication
You have now uploaded your third duplication onto this site.
As promised, your account will now be suspended for one week. If following this period you continue to upload duplications, your account may suffer longer and longer suspension durations until (ultimately) being permanently blocked. Please keep this in mind and do try not to let this happen again. Thank you. -- NuclearVacuum
23:10, June 8, 2016 (UTC)
Great Nuclear War
Hello, Senor Brick, just following up on your questions about Maine. Sorry I hadn't gotten to you, but at the moment I do not have regular accsess to the internet. As for your question:
I had marked Portland as a target as during the sixties, Portland was an important port as far as I know. However, if you would like to retcon that detail, feel free, I keep almost everything up for debate.
Note that Portland also has shipyards, but no regular accsess to steel until it can incorporate itself into the Lawrence Trade Route established by Niagara Falls. Lumber is your maine strength, but you also have accsess to limestone, granite in large quantities, as well as a huge copper and zinc deposit that is practically untapped. Contact me if you have any further questions or suggestions. If I dont answer within a week, text me at 419-653-5837. Therubbleoroursins (talk) 14:58, June 24, 2016 (UTC) http://althistory.wikia.com/wiki/Niagara_%28Great_Nuclear_War%29 Therubbleoroursins (talk) 15:24, June 26, 2016 (UTC) Whoops my bad. \(0_0)/ Therubbleoroursins (talk) 03:10, June 26, 2016 (UTC)
Great Lakes
So here is a map of North America. As you can see, the Great Lakes are the busiest part of the map, and a nice little international economy has arisen there. There are now three economic superpowers in the region. These are
niagara, Maine,
and 
North Ohio.
North Ohio grows inane amounts of corn which are made into food, fuel, plastics, synthetic rubber, and other things, as well as growing hemp, which is made into cloth, synthetics, building material, food, and other things. You already know about Maine. Niagara is a superpower with it's extensive Navy and strategic position for trade. They control trade on the Water. They ship lumber, food, fuel, steel, fur, and anything else they can get their hands on. They control the lawrence river as far north as Montreal, and Have control of Western Upstate New York, with Syracuse as a regional base. They'd be extremely interested in what maine has to offer, expecially, stone, whale products, and copper.
Therubbleoroursins
(
talk
) 18:14, June 27, 2016 (UTC)
Yes I know this thanks however the map is a bit wrong as northern Maine, parts of Quebec and New Brunswick are all conquered by the super power that is Maine. Here's a more accurate map.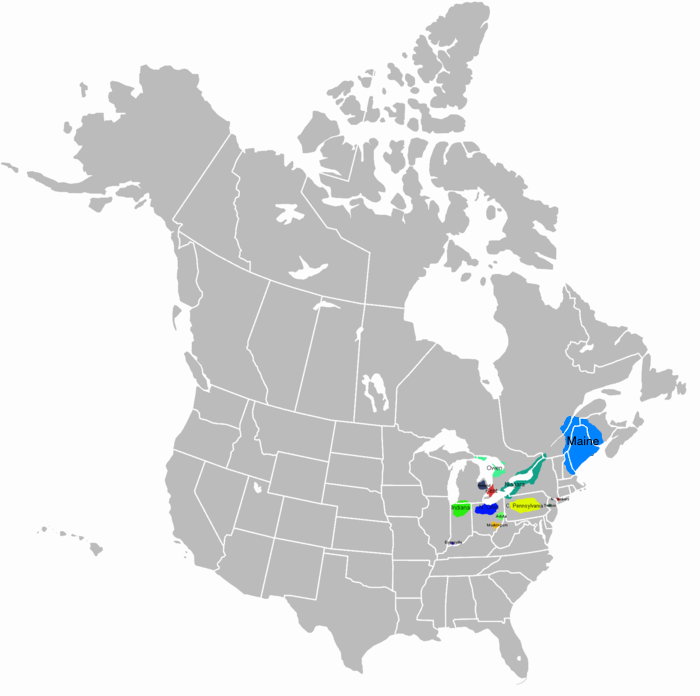 The.Brick.Battle
(
talk
) 01:11, June 28, 2016 (UTC)
Oh cool. I didn't want to overstep anything, but thanks Brick. Holy shit makes Niagara look like the Athenian League! Note in the 90's (which we have not technically enteres yet, there is a Fascist Scottish Government that has taken over Nova Scotia. Might be pissed about Maine "occupying" New Brunswick. Just some food for thought. Therubbleoroursins (talk) 21:18, June 28, 2016 (UTC)
If Maine didn't have a Navy, Air Force, And Army up to standards with the pre-war US Military and wasn't its size I'd be worried but because I can check off both of theses boxes I'm not worried as I don't think the would attack maine in the first place and if they did I would most likely kick their ass. But, Anyways do you think you might want to right part of Maine's history? Just so at least a bit of it isn't all Writen by a Mainer. The.Brick.Battle (talk) 21:28, June 28, 2016 (UTC)
Join chat so we can talk about this easier The.Brick.Battle (talk) 22:17, June 28, 2016 (UTC)
Republic of Maine
Sure sounds cool! I added a locater map to the article, but I would be happy to help with the article. It's always good to get a second opinion. My personal "baby" article is North Ohio, and I constantly ask to make sure I'm being skeptical, you know? 
I am definitely interested in Maine's conquering of the north. Is it a literal conquering, or an anchluss situation or something else? Therubbleoroursins (talk) 22:09, June 28, 2016 (UTC)
Hey, I made mention of Maine in one of my articles? is that okay? AlphaAuxiliatrix (talk) 04:33, June 29, 2016 (UTC)
Yes. However, One problem we Mainers make ships, higher quality machines than anything coming out of Ohio just FYI and we have many other goods like timber, whale oil, petroleum products (plastic), furs, sea food which people will pay top dollar for after the Great Nuclear War and we also have copper thus making us way more of a military and economic than Niagara could ever wish to be. So if Niagara ever decides to bully you just give us a call. Also please remember we still have pre-war manufacturing capabilities because we were not hit by an EMP attack thus we have a pre-1961 military with our Army which has the best assault rifles and tanks that were used by the US army before 1961. along with our Air Force which has fighter jets which is a lot better than a P-47 Lighting Bolt. The.Brick.Battle (talk) 05:58, June 29, 2016 (UTC)
Chat Message
Aye lmao Therubbleoroursins (talk) 01:05, June 29, 2016 (UTC)
Aye you up for chat? Therubbleoroursins (talk) 23:58, June 30, 2016 (UTC)
Aye
im back man Ok head to chat
Canada in GNW
Hello there - I was working on the British nations in the TL, and was wondering what your plans for Canada are - does it become a Republic? Just to let you know, me and Therubbleoroursins had an idea that, in a few years, the United Kingdom invades Scotland , and the Nationalist Scottish government leaves, and annexes Nova Scotia - what are your thoughts on this? Bryce III - ☕ Tea?
07:41, July 1, 2016 (UTC) It is the continuation of the the republic of Canada so yes it becomes a republic per say. Also that's fine but Nova Scotia really I was think PEI or Labrador. The.Brick.Battle (talk) 16:58, July 1, 2016 (UTC)
Ah ok - makes sense to get rid of the monarchy if they're no longer present. We can discuss Novo Scotia further - what were you're specific ideas for it? I like the idea of a exiled-Scottish State there, but what are your thoughts? Bryce III - ☕ Tea?
20:14, July 1, 2016 (UTC)
Mainly that if the were to fuck with Maine (Declare War) the Maine would fuck them up as it is currently the most powerful faction in the post-nuclear war United States. Thus in order to avoid the immediate destruction of the Scottish state in exile I say it should occupy Newfoundland with its capital at Saint John's area rather than that of Nova Scotia. The.Brick.Battle (talk) 21:45, July 1, 2016 (UTC)
Maine
Hey Sam, I know we havent spoke in some time, but Alpha turned over her articles to me, Kingdom of Owen, Kent-Lambton, and related. I wanted to revamp K. of Owen, make it more likea n actual medieval kingdom. My idea is that Niagara attemtps to colonize the slag plains and Owen sees this as a threat, and so he launches a campaign to conquer teh plains. My idea is that the Niagaran Land army is weak and undisciplined, and does poorly against the well-organized Owenite military. SO Niagara harasses them with naval encounters, and my idea is that they hire mercs from Maine, which Im not sure of because this war would be in the 90's and I dont know if Maine was in contact yet, or if the Military Bloc had been established. I might just can the idea of Mainer mercs all together. `\(#_#)/'
Therubbleoroursins (talk) 13:27, August 9, 2016 (UTC)
Re: PM4
I don't have an objection to you playing as the Roman Empire, but I should let you know that the Byzantines are not technically my vassal. In truth, the Empire is formally independent, but as I and other Crusader forces occupy the capital city of Constantinople, we exert a fair amount of influence. 
So as I said, I don't have any objection, but that's a more accurate lay of the land for you. 
"This is not your grave but you are welcome in it." 21:50, August 21, 2016 (UTC)
I cannot speak on behalf of the other forces within Constantinople, but I do not intend to abuse my power, only maintain what I have done thus far. 
"This is not your grave but you are welcome in it." 21:59, August 21, 2016 (UTC)
WW1913
http://mapgame.wikia.com/wiki/World_War:_1913_(Map_Game) the game has been oved due to a urgency to play-Orwell
Kindly sign your name on the contributors portion on the main page. Thanks. Gillan1220 (talk) 04:21, May 10, 2017 (UTC)
Infected in Project Noah
Hello Sam, I just wanted to clarify if the zombies or infected in this timeline is slow or fast? Also, if could kindly start the article on The Infected since you are more familiar with the symptoms, Jules, Alessio and I appreciate it. Gillan1220 (talk) 16:27, May 10, 2017 (UTC)
HRElection
Hey, hey, hey, it's Election Day! Stop by and cast your vote for the next Holy Roman Emperor here!!!
I am that guy (talk) 02:02, May 12, 2017 (UTC)
Imperial Diet
Hey, hey, hey, it's Diet time, come here and vote for reforms, and submit concerns.
I am that guy (talk) 00:06, May 18, 2017 (UTC)
PM
In PM4 Russia will invade me unless I take my troops away from my border, so to prevent war he made me sign a 10 year non aggression pact and give them a lot of land. What should I do?
-Prussian27
chat With Blood and Iron (talk) 00:16, June 1, 2017 (UTC)
chat
come onto chat With Blood and Iron (talk) 18:09, June 1, 2017 (UTC)
ok im pulling back 
With Blood and Iron (talk) 19:59, June 1, 2017 (UTC)
join chat and also join the conference, all other parties involved are sending a representative. With Blood and Iron (talk) 00:28, June 2, 2017 (UTC)
http://althistory.wikia.com/wiki/Great_Berlin_Conference_(Principia_Moderni_IV_Map_Game)
Community content is available under
CC-BY-SA
unless otherwise noted.