Hello and welcome to the Alternate History Wiki!

We are a community for creating fictional alternative histories. We hope you will feel at home here and wish you good luck contributing to our ever-growing collection of timelines.

Please start by reading our Guide to Newcomers. It contains links to the important sections of the wiki.
If you're new to wikis in general, see How to Make Articles.
If you're ready to create an article, see Conventions in Use in this Wiki. It explains how to title and categorize your pages, what kinds of content are allowed, and other rules of the site.

Some other helpful reference pages:

Some general tips:

This wiki is for alternate history, not future timelines. What you write should take place before 2021.
All articles on this wiki take the following format: Name of article (Name of Timeline). This helps us know which pages belong together.
To sign your posts on talk pages, use ~~~~ (four tildes). This will insert your name and timestamp.
You can experiment in the Sandbox.

Regards, -- Lordganon (Talk) 19:16, April 1, 2013
Hello and welcome to the Alternate History Wiki!

We are a community for creating fictional alternative histories. We hope you will feel at home here and wish you good luck contributing to our ever-growing collection of timelines.

Please start by reading our Guide to Newcomers. It contains links to the important sections of the wiki.
If you're new to wikis in general, see How to Make Articles.
If you're ready to create an article, see Conventions in Use in this Wiki. It explains how to title and categorize your pages, what kinds of content are allowed, and other rules of the site.

Some other helpful reference pages:

Some general tips:

This wiki is for alternate history, not future timelines. What you write should take place before 2021.
All articles on this wiki take the following format: Name of article (Name of Timeline). This helps us know which pages belong together.
To sign your posts on talk pages, use ~~~~ (four tildes). This will insert your name and timestamp.
You can experiment in the Sandbox.

Regards, Seiga Miyako (talk) 13:00, May 2, 2013 (UTC)

Why is there two of these? Tr0llis (talk) 13:03, May 2, 2013 (UTC)
Sry but I have already posted as Germany sence Von quit, can you remove your name. Octivian Marius (talk) 22:33, July 10, 2013 (UTC)
In the Ruins of the French EMpire
I invite you to join my map game. In the Ruins of the French Empire (Map Game). Octivian Marius (talk) 01:24, July 30, 2013 (UTC)
Rise of the South Map Game
Hello Tr0llis I would like to inform you that Warman555 has vandalized the map game main page and took your name off from Austria-Hungary. I advise that you sign back up as Austria-Hungary, but in the meantime I will be reserving the spot for you until you sign back up so nobody takes it. User:Edboy452



(talk) 19:26, September 10, 2013 (UTC)
Rise of the South
I believe Ed started rise of the South. Didnt see any messages go out about it so i figured id let you know #LivinLikeFeudal (talk)
Italy PMIII
I would highly suggest choosing a different nation in PMIII. There are already a ton of people in Italy and it's going to be a bloodbath. Unless you want a really short tenure in Italy, I'd advise choosing a non-Italian nation. 20px

CrimsonAssassin- "I have special eyes" 23:26, December 30, 2013 (UTC)
PM3
Want to join an alliance with me and sicilly, and possibly naples and venice. I think you know why *cough*crim*cough* Toby
RE:IP Block
Yes, that is spam, so don't me messaging other users the same question hoping to get an answer faster.
While his ban does indeed end today, it won't until 8:37 PM EST (exactly two weeks from when LG blocked him). You guys can wait a few more hours. -- NuclearVacuum
22:43, February 2, 2014 (UTC)
It looks like Mscoree is no more blocked and can edit now :/ Regards --Katholico (talk) 00:43, February 3, 2014 (UTC)
MS, Warning
For someone that has been accused of sockpuppeting before, you sure are good at parroting the other account involved.
Doesn't take much Latin to know that you guys are blowing smoke. Not only is that a word I know the meaning of, but my old Latin notes, my textbooks, and my dictionaries confirm it means "reader" as well. The older ones my wife owns say the same thing, as does Google translate. So, Bull.
MS got blocked for, following a warning, continuing to be insulting, belittling, and then going against a warning from another admin. He was specifically warned to not violate the rules again. Yet, he did. His own fault for refusing to listen to myself and the other admins, yet again.
Post for him again anywhere, and it will be taken as going around a block.
End of discussion.
Lordganon (talk) 11:26, March 30, 2014 (UTC)
What part of "end of discussion" was foreign to you? "End?" "Of?" Or maybe "Discussion?"
And, on top of that, you vandalize my page. Don't do it again.
Wasn't hard to locate a copy of that dictionary, or works by cicero, online, fyi - and three guesses what both have that word meaning. I'll give you a hint: It is not the word slave. The word "Reader" is very clear.
Don't bother me with that bull again.
Lordganon (talk) 14:53, March 31, 2014 (UTC)
Chat
Ok, thanks.

   Tonight the foxes will hunt the hounds!  23:42, April 27, 2014 (UTC)
re:Magnam Europae
It seems like most of these are simply things I need to elaborate upon a bit more. I think the first thing I should mention is Ragnar, because he's the reason this whole thing came together. This is not the same guy who led the Heathan Army. There were many, many other Ragnars throughout history. The guy that sparked the First Viking Wars was a Dane under the name of Ragnar Lodbrok who attacked Paris in 845. This attack actually happened. Paris got devastated by these guys. The Ragnar you're thinking of should be dead by now. Shame; he's a very interesting person.
This brings me to your first point. In OTL, the Vikings started getting ballsy around this time. Louis the Pious' reign was filled with turmoil in Francia, a problem which only got worse with Lothair. The Norsemen took advantage of this and started invading all kinds of stuff this decade (including Hammaburg). While they were not organized, they did piss off the Franks greatly, who would have done something had they been in a state to fight. The Carolingians were in a good state around this time. Yeah, the outcome of the war has been bothering me for a while and I might retcon at some point (not like I haven't retconned things in that TL before), I'll likely have the Danes kick ass in the Second Viking War.
Regarding the kingdom splitting, I did end up doing that. Seems like you caught on to that tradition being done away with after the Viking Wars. What ended up happening was the Byzantine culture began impacting Francia greatly by this time. Atticus decided to install some Byzantine laws into Francia, which naturally made some of the Franks pretty unhappy. These laws included succession laws. I looked into all sorts of ways to do this, noting the Treaty of Verdun among other things. This seemed to be my best bet.
Thanks again for the critique. It seems like my main enemy is elaboration or lack thereof. This tends to be a problem for me.

Bananananananana BAT-CRIM

23:09, April 29, 2014 (UTC)
Re:Alternate Nations III
I have reverted the page back to its previous state, before the rules were broken, as I was on vacation/away from home for much of the time where the map game went on without me. What Fireurchin and Eric4e did was obviously against the rules, and I will be talking with them. Bfoxius (talk)
War on Italy
Declare war on italy please they declared war on me first but didnt invade. So now ive invaded and your up in the algo. territories are still agreed and i requested you in my 1520 turn. The Wings of Freedom #FP
(Talk to Me)
In fairness I tried to un-ban you, nothing wrong for sharing beliefs.

ALLONS-Y!!,Basically, RUN!!

03:23, June 14, 2014 (UTC)
I am sending you this message to let you know that the abuse that we all saw (and experienced) on chat today has been brought before the TSPTF. I invite you to share your experiences so we can show just how this wiki makes common sense reforms. TSPTF-Chat Abuse. Thank You, Reximus | Talk to Me! 03:40, June 14, 2014 (UTC)
Warning
You've been completely disrespectful today on chat towards Ms. Asking for timelines about him dying and for "damnatio memoriae to start early" is absolutely repproachable. I already warned you on chat, but if you do another infraction of the rules you'll also face dire consequences on wiki. You have been warned. Fed (talk) 02:45, July 15, 2014 (UTC)
Netherlands: 
Nassau-Orleans is the ruling house
the flag is on the pm iii portal.
current leader is willem II but the states-general hold most of the power at this point.
batavia, and singapora i guess. 
With Blood and Iron (talk) 16:24, August 1, 2014 (UTC)
Ayutthaya
Got your message, diplomacy has been posted on my next turn. Thank-you.

Aternix!?

06:26, August 7, 2014 (UTC)
Nicobar
I see you have started to colonise the Nicobar islands and I wish to talk about the islands. More details on my post in 1588.

Aternix!?

06:13, August 8, 2014 (UTC)
Royal Marriage Proposal
Hi, I'm contacting all the major nations in Europe in PM3 to tell you about some royal marriage proposals available this turn, for three different royal families. On my turn there are currently fifteen people who are looking for a spouse, simply reply to my turn as soon as you can to reserve a person. I will be looking over the proposals to try to avoid incest (although a little incest never killed nobody haha), and if you'd like to see family relations yourself, feel free to check out this page, where the family tree is located. If you would like further information or my recommendations for a particular person, message me back with your available children and their ages and I will get back to you as soon as possible. Thanks, Mscoree (talk) 15:44, August 11, 2014 (UTC)
Your Invitation
Let's get 'em m8. Mscoree (talk) 04:27, August 17, 2014 (UTC)
I went ahead and added some stubs for nations and such. Today I'm going to add some outlines to the overall timeline for you to look over, as well as make a page for the War of the Great Heathen Army. Let me know what you think, and obviously you can change whatever you like. Mscoree (talk) 15:01, August 17, 2014 (UTC)
I added some content to the timeline, with some neat quotes. Feel free to add more, as I'm not entirely sure where you want to go after Edington. Also about the edits Lordganon did, don't push him too far. Getting banned only makes this harder, and from experience it's not worth it. Sucks that the template was deleted though, as I have to say, regardless of the content on it, it looked pretty nice. Mscoree (talk) 16:41, August 19, 2014 (UTC)
I'm working on that map. Here's a WIP of what I have so far. Mscoree (talk) 22:36, August 19, 2014 (UTC)
And there's the second WIP, with Ireland added. Mscoree (talk) 15:49, August 20, 2014 (UTC)
I tried my best to remake your template, and saved it to my wiki in case it's deleted. Hopefully this doesn't fuel the edit war, but at the very least you will have a copy for other purposes. Also I did an attempt at rewriting the information to sound less aggressive. Hopefully that convinces Lordganon to let you keep it. Mscoree (talk) 01:00, August 25, 2014 (UTC)
Chat
What?
The only reason I came on chat is because I need to discuss something with those three. If they arent there, I don't have to be either, lol.

   Tonight the foxes will hunt the hounds!  20:50, August 19, 2014 (UTC)
I know that, lol.
BTW, is my font's sig in Comic Sans? It shows up fine (ie not CS) on my Mac but not so on my PC...

   Tonight the foxes will hunt the hounds!  22:24, August 19, 2014 (UTC)
Ahh, shit. I need to fix that.

   Tonight the foxes will hunt the hounds!  02:46, August 20, 2014 (UTC)
"Stuff"
...And here I was hoping that you'd take the hint on your own. Guess not, lol. Shame - means that I won't just pretend it didn't happen like I was doing.
At best that was a passive insult of another user. At best.
Could care less if you think they "stole" or "copied" an idea from you. But that doesn't give you the right to accuse them of it - and that template was worse.
Consider this a warning.
Lordganon (talk) 09:27, August 21, 2014 (UTC)
...Really? That is what you got out of that? Sheesh. And what part of "could care less" was not obvious? >.>; Lordganon (talk) 16:21, August 21, 2014 (UTC)
As I said above, don't try to push the issue. Maybe Lordganon is being brutish, but you're not going to win. He'll probably ban you, so there isn't much we can do. Just become submissive and let him take what he wants. Hopefully the timeline remains. Mscoree (talk) 16:49, August 21, 2014 (UTC)
I have to say, this whole thing is quite silly. Rex stole your idea. OK. So you went and made your own timeline. OK. And you say you have no problems with Rex, but then why must you add a section stating that Rex stole your idea? I must say, I don't see the point of that section and seems like the words of a bitter person.
    SCRAWLAND INVICTUS || REX IMPERATOR   18:09, August 25, 2014 (UTC)
Holy shit man, this is what I'm talking about. I write three lines and you write a treatise. Big deal over nothing. You should have added spaces between all those lines.
    SCRAWLAND INVICTUS || REX IMPERATOR   00:16, August 26, 2014 (UTC)
thinking of coming back to the game
ifi do how shall we go about things in terms of things would you allow me to take up control of guiana?With Blood and Iron (talk) 10:21, August 28, 2014 (UTC)
we will see how i develop over time i might seperate in the 1850s or possibly earlier it all depends on what occurs. but ill be seeking to increase the population so continue sending black slaves, and wallon-dutch my way. With Blood and Iron (talk) 14:17, August 28, 2014 (UTC)
Indonesia PMIII
Alright, I won't take any more land from Indonesia in hope that we can maintain a good relation.

Aternix!?

06:21, September 1, 2014 (UTC)
We need to discuss a few things on chat.FOR THE GLORY OF THE PARTY! 02:31, September 8, 2014 (UTC)
netherlands
i want to return to the netherlands if this is permited i plan on doing a few changes to the current state. answer me when you get this. With Blood and Iron (talk) 16:01, October 1, 2014 (UTC)
come onto chat we will discuss the matter. With Blood and Iron (talk) 19:33, October 1, 2014 (UTC)
i have an idea to spice up the netherlands and i want to try it out with you.With Blood and Iron (talk) 19:43, October 1, 2014 (UTC)
2 things
looks like im getting overwhelming support in the form of mercs, this turn, we should have the definitive clash to end the civil war next turn take this turn to organize your troops and prepare for the battle we are divided along the rhine t the moment.
the  minoritie are in the southern netherlands mainly XD. With Blood and Iron (talk) 01:53, October 9, 2014 (UTC)

Hey, I was about to send the message, but then chat broke, could you come back? SkyGreen24(P,Q) 21:40, December 21, 2014 (UTC)
Thank You!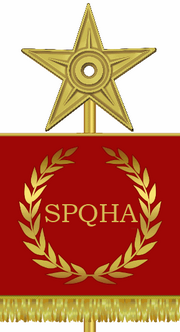 Regarding Accusations
While I appreciate the apology, I would like to point out that you are coming off as accusatory. This bothers Feud, who takes pride in his work and honesty of said work. Consider this an official warning. That said, I'll hold you to your word when you say that it stops now, Tr0ll. Both you and Feud are capable of it. Crim de la Crème 20:13, December 31, 2014 (UTC)
Last Warning
I'd better warn you. You and your group of friends has been acting extremely insufferably the last few days. Given the facts that 1) You have commited extreme amounts of trolling; flamebait; personal attacks towards other users; spam; and extremely irritable behaviour; 2) you have commited a lot of shady stuff with several of your allies coming back from the dead just to vote for your TSPTF nom; and 3) you have the longest ban log of alternate history wikia history, I'm warning you. Do anything, anything, out of line, and you're gonna be banned for a long time. Fed (talk) 01:48, January 20, 2015 (UTC)
AvA Liechtenstein
I would like to continue on the path of union for Switzerland and Liechtenstein. Under my proposed plan Liech. would become the 16th canton and the Prince of Liechtenstein could become head of state of a potential Swiss monarchy.
•
14:20, February 17, 2015 (UTC)
Westphalia Deal
So I know I had a deal with you about Westphalia between the Netherlands and Lombardy. But as a new player of the nation I did not know previous deals and information. Hamburg and Nk had made deal previously that involved Westphalia, but they had not commit to it yet. Nk said it was my descision to go with it or not, but I ended up going through with the deal with Hamburg. Nk and Iam already discussed their deal before, meaning Nk was interested in it. So TL;DR, Since the deal entailed the Westphalian PU (Between Nk and Iamthatguy) I cannot do the deal with you anymore.

NicDonalds, Beginning Editor Talk

20:37, March 20, 2015 (UTC)
Ruler Infobox
Hello, I'm not sure what you did but FYI the born/died dates no longer work on the ruler infobox. Yan Hoek (talk) 16:14, April 4, 2015 (UTC)
Ah ok. Well I don't mind fixing everything to match the real template then. Oh and the other Ruler Infobox will need fixing too. There's the ruler one and the Ruler one. They are identical as far as I can tell. Yan Hoek (talk) 00:16, April 5, 2015 (UTC)
Ragnar Lodbrok
Hi Trollis.
I was looking at your timeline thingy, because it was on the Recent Wiki Changes thingy, and I didn't know who Ragnar Lodbrok was, so I googled him, and wikipedia said he wasn't confirmed to exist. Since the timeline is not ASB tagged or anything, I assume you have a better source? Wikipedia is not particularly reliable. Can you link it to me, so I can read about him, because I'm curious about the history. I hope I haven't come across as rude, or insincere, as I do really want to know, as I currently am perplexed by it. Local Mafia Boss (Talk) (Blog)
AN5
Turn 5 is signed up, but crossed out but not posted. When can I post? Do I just wait for it to be posted? Local Mafia Boss (Talk) (Blog)
Duplication
Greetings. Recently, you have uploaded a file on this site that is a duplication of another. Please keep in mind that many of the files found across Wikimedia have also been uploaded to this site — all under the same names and types. These files can easily be found by searching for the file's name in the search bar. If you are using the "visual" mode for editing and uploading, please be advised that you will be required to use underscores (_) instead of spaces when searching for a file (e.g., "Flag_of_Canada.svg" and not "Flag of Canada.svg"). In the event that the file you require is not already uploaded to this site, it would be very appreciated that you upload the standard file used on Wikimedia as a courtesy to current and future users.
The following uploads have have been removed from this site, and have been replaced with the following correct files:
File:20140811180530!Raven Banner.svg

→

File:Raven Banner.png
Please try not to let this happen again. Do not re-upload this file or remove this message from your talk page. Be advised that while this message is simply a warning, continuing to upload duplications will result in the temporary suspension of your account. Thank you for your cooperation. -- NuclearVacuum
21:15, May 3, 2015 (UTC)
If you are upset about being tagged for duplication, be advised that it's merely a warning to not do it again, not a death message. I don't appreciate being harassed for this, as nothing vital has been changed. You have the flag design you requested, and only a warning not to duplicate in the future. Your response to this is to deny everything I stated and to argue with me.
I have already explained to you that your upload was a duplication. There does not exist a file called "20140811180530!Raven_Banner.svg" on Wikimedia, and the file which uses "Raven_Banner.svg" is already taken by another file. You clearly uploaded an outdated vector version of the later, which the original author correct. Because of this, the outdated version is to be treated as just that: outdated. Despite this, Wikimedia has another file by the name of "Raven Banner.png", which is the file design you requested. The following argument is not based on file type, but to what exact file Wikimedia is using. -- NuclearVacuum
20:43, May 5, 2015 (UTC)
You detalete my stuff but your name is troll on the irony
Hpwever
"However" is an interjection and is required to be surrounded by commas and/or the first word of a new sentence and capitalized.
However, I'll try to remember to leave yours alone.
Bil EoGuy (talk) 17:20, July 6, 2015 (UTC)
Back
You're back?             
   The night is dark and full of terrors. 
Please Stop!
I've already game you my answer to this at the beginning. Please stop pestering me about this over and over again. If you didn't like my answer, then please take your business elsewhere. I will not repeat myself.
I also ask that you cease harassing me. Within this same time span you've pestered me on the same issue and then stalked my activities during your block. I find these neither amusing nor helpful. If these actions continue, I will suspend your account. -- NuclearVacuum
04:25, July 9, 2015 (UTC)
Beseeched vs besought
According to the source I found "besought" is an acceptable spelling.
In fact, "beseeched" is underlined because it is listed as an error.
However, I've changed all eight or ten of them back.
Sometimes I go too far.
Sorry.
Bil EoGuy (talk) 17:18, July 21, 2015 (UTC)
Stop reverting my edits fucking jew!95.248.42.14 16:16, July 23, 2015 (UTC)
I said to you to stop reverting my fucking edits. I'm not a vandal. I am trying to make this wiki better by putting more articles on the Continent categories so that everyone can see them. If all of you leave the pages on the Proposal (1983: Doomsday) category no one will ever see them. Now if you don't want that I edit your pages, then go to the Proposal (1983: Doomsday) category and approve all of those proposals and put them online. I only wanted to make a better wiki. Signed95.248.42.14 16:24, July 23, 2015 (UTC)
Hi Tr0llis!
Thanks for reaching out-- you make a lot of really great points! This is definitely not something we are forcing on our communities, just strongly encouraging :) I know they aren't perfect yet but we are in the process of making the infoboxes better every day!
Admins are free to decide right now what they want to do, so if you feel strongly please bring it up with an admin!
If you want to contribute to the discussion in general - click on this thread here and I'm sure they will be happy to take your feedback!
Hope that helps :) Asnow89 @ (profile)•(talk) 23:55, July 23, 2015 (UTC)
Reverting Vandal
Much obliged about that guy. Well done. Will remember that. Lordganon (talk) 07:08, July 24, 2015 (UTC)
Bit late, but the OBS thing? Meant other areas of the world. Lordganon (talk) 17:22, September 26, 2015 (UTC)
I'm Done!
I'm fed up with this. You keep pestering me over something that should've been clearly understood months ago. I stated back in May:
"The file you uploaded was an outdated version (not to mention that you also didn't name the file the same)."
This means that you uploaded an outdated version of a file, not the current one in use. I then states:
"We are trying to keep things in sync with Wikimedia, so the PNG version is the only one available at the moment."
This meant (at the time) that another version existed that you could've easily used but chose to ignore.
Now all of the aforementioned material is now moot because the original user over on Wikimedia went ahead an uploaded the design you wanted in the first place.
So now I will say this one last time. You are to use THIS FILE and nothing else. There will be no second file or any outdated file. Any attempt to go against this will result in the suspension of your account. Is this clear enough?
Secondly, STOP HARASSING ME! Seriously, this is the most annoying and frightening thing to me at this point. I don't care what your claim your intentions were, but on my end all I see is:
You ignoring my answer back in May because you didn't like it.
Stalked my private activities during your suspension.
Regardless of whether you were only trying to help me, I don't see this and never will. If you want to prove to me that your intentions are good, than stop contacting me and stop "trying to help me."
This is the last message I wish to write you and the last time I wish to converse with you about this issue. End of discussion. -- NuclearVacuum
21:02, July 24, 2015 (UTC)
What part of "If you want to prove to me that your intentions are good, than stop contacting me and stop 'trying to help me'" didn't you understand? All you did was rebut everything I just said.
Once again you ignore the answer. I gave it to you clear as day. The file I gave you IS the file you are to use. There is going to be no additional files uploaded to this site. End of story.
You seriously wouldn't be freaked out if you were in the middle of resolving a situation and then get contacted from a blocked user on another site you've never been to? Especially MS' site. This is how I'm feeling about this whole situation, and you haven't done anything to make it better other than telling me to "swallow your pride". Are you kidding me?
And yes, I did have to contact LG, and I'm sorry you came across it. At this point, we both want his arbitration.
German South-West Africa
From Wikipedia
Bil EoGuy (talk) 01:12, July 25, 2015 (UTC)
War of the Axes (The Old Boar Suffered)
Did you change "farther" back to "further"?
Bil EoGuy (talk) 03:19, July 29, 2015 (UTC)
Gulf Coast is correct.
Bil EoGuy (talk) 20:13, August 11, 2015 (UTC)
Re:
Thank you. I been trying to delete the "Hero Oswald" pages for many years. I grown sick of it because of several reasons.
1. It is stolen from another website also called "Hero Oswald". I made up most of it into my own and rewrote them. It is also portraying the assassination as a conspiracy (in contrast to the offical version of events) and that is what I am sick of most because I myself don't know what to believe any more.
2. It is inaccuracte and makes more of a terrible story than real life. 
3. Much of it is just speclucation.
Re 2:
With all due respect, I am not somebody else. I am the same author of that Hero Oswald article. I am the same person!
Please!
The mod team is full right now. I'll keep you in mind in case one of them goes inactive and we need a replacement. Thanks for contacting me.
    SCRAWLAND INVICTUS || REX IMPERATOR   01:42, June 23, 2016 (UTC)
Troll?
The Alternative History:TSPTF are talking about you.Trish pt7 (talk) 01:15, July 18, 2016 (UTC)
YBT, DFTT and DNFTT.192.99.4.110 15:05, July 31, 2016 (UTC)
YGM? Fuck off, troll!Bronwyn the 2nd (talk) 21:10, July 20, 2020 (UTC)
Suirrelvolution time?!
Category:Squirrils up derricks!