Hello and welcome to the Alternate History Wiki!

We are a community for creating fictional alternative histories. We hope you will feel at home here and wish you good luck contributing to our ever-growing collection of timelines.

Please start by reading our Guide to Newcomers. It contains links to the important sections of the wiki.
If you're new to wikis in general, see How to Make Articles.
If you're ready to create an article, see Conventions in Use in this Wiki. It explains how to title and categorize your pages, what kinds of content are allowed, and other rules of the site.

Some other helpful reference pages:

Some general tips:

This wiki is for alternate history, not future timelines. What you write should take place before 2021.
All articles on this wiki take the following format: Name of article (Name of Timeline). This helps us know which pages belong together.
To sign your posts on talk pages, use ~~~~ (four tildes). This will insert your name and timestamp.
You can experiment in the Sandbox.

Regards, -- Katholico (Talk) 23:17, October 27, 2011
Revolutions 1750
Hello! I am glad you are on board the map game and I hope it'll be a good one. Before I start, I just want to notify you of some things. First off, it looks like we're going to end up going to war in the American Revolution. Until then, I am a colony and you can do what you want (within reason).
I'm going to extreme lengths to prevent this game from becoming implausible. Please note that moderators will have Delete on Sight permissions. This means they can delete anything they see implausible. Granted, I'll probably just cross it out so I don't confust people, but be warned that the mods reserve the right to remove problematic people from the game.
There will be algorithms factoring wars and revolutions. Keep in mind that, unless improperly done, an algorithm's result is final. Moderators will be keeping track of the algorithms. These algorithms are to keep the game plausible and fair.
The moderators are an impartial and fair group of players that have shown enough responsibility and plausibility to hold their positions. They will not be biased or unfair. That being said, please don't accuse them of being biased or unfair.
If I didn't scare you away from the map game with all this stuff, feel free to post on the map game. Good luck!
CrimsonAssassin 03:52, November 22, 2011 (UTC)
portugals king demand protection from spain mostly in south america sincerely portugal in 1750 revoulotions
lets unite, you get my entire german empire, im done with the map game, ive got lotts of work to do and personaly its getting boring. Just finalize it on the map game page itself. That means you get the Philipenes and Indonesia. France just atacked me, I rebuffed them, but they are blockading me, please fix it when Germany becomes part of Britain.
thanks,
DeanSims 21:57, January 3, 2012 (UTC)
Avaro
The game is starting now. Thanks for playing.
PitaKang- (Talk|Contribs) 21:57, January 9, 2012 (UTC)
yeah, prussia and germania can unite as the German Empire. DeanSims 15:33, January 14, 2012 (UTC)
Hey, I was wondering if you would change your mind, and join the CNAT, as not all of us are communist: Germany is an democrat. Plus we'll offer land in exchange for your help against the AXIS. Enclavehunter 17:31, February 19, 2012 (UTC)
As you are a predominent member of the Axis, what are your plans for the oncoming years? :D
Imperium Guy 01:20, February 25, 2012 (UTC)
definitley need to focus more on space raceWegscuba 03:41, February 25, 2012 (UTC)
I agree. How about you focus on the Space Race with most Axis European countries while Tibet, India and N. Japan liberate S. Japan? We will need your aid and and we will sent our scientists to help, but with this we can do two things at once!! Plus, check out the AA page!! :D
Imperium Guy 10:55, February 25, 2012 (UTC)
Battle for Earth
Yeah, sorry about the blood, its just that that would be too unstable to act as a hemoglobin. But the rest og the biology looks fine. Also, I would avoid saying that they invented all of these things. If you read Crimson Assassin's history, there was a race millions of years ago that could do the same thing. You also might want to check the galaxy idea; sure it's orbiting the Milky Way, but that's still many thousands of light years to enter the Milky way. Just some thoughts. The rest is fine. Monster Pumpkin 00:28, March 2, 2012 (UTC)

Sorry to do this to you again, but I just noticed what you changed the Hemoglobin to. It has to be a metal, not a gas like Radon. Some examples that bond easily with Oxygen are Iron, Cobalt, Manganese, Lead, etc. If your trying to get a radiactive metal for the blood, I don't think that's possible. If you want posionous blood, then try Mercury, as that could theoretically work. Monster Pumpkin 00:34, March 2, 2012 (UTC)
Axis vs Allies: Reloaded (Map Game)
things are getting thence in Axis vs Allies: Reloaded (Map Game), so a move by Greece would be greatly appreciated, since much has happened over the last 10 turns!90.244.80.46 02:42, May 5, 2012 (UTC)
BFER
If you don't play in Battle for Earth Revised, the mods reserve the right to remove you. SPQR 19:29, May 7, 2012 (UTC)
Imperialism (Map Game) has started. You may begin posting. TacoCopper
sure.
be my guest.Wingman1 02:52, June 25, 2012 (UTC)
if this is the page you are talking about, Ware Shoals (1983: Doomsday), then please hold off for now as i am still working on it. thank you.Wingman1 03:04, June 25, 2012 (UTC)
kool then good luck. i would if i was you i would run the posable changes by the other editors on the talk page first as others have for the most part have devloped that page sense i last edited it. Wingman1 03:48, June 25, 2012 (UTC)
Weg, I applaud your enthusiasm, but please read some intimation on the area in DD. Those strikes were not at all accurate, were far too great in number, and the map is wrong, at best. I've taken it off.
Have a look at what the article already says, the strike list, and the other articles in the region, before you add more.
Lordganon 03:55, June 25, 2012 (UTC)
....You got most of my point, good. No targets here, however, would have gotten more than one hit. Your chart, quite honestly, is unwieldy, at best. Needs to be reworked, or removed. Lordganon 04:25, June 25, 2012 (UTC)
...What are you talking about? If you mean the chart, it simply looks bad, quite honestly. Lordganon 05:40, June 25, 2012 (UTC)
Battle for Earth Reloaded, Galactic Map
Its your turn!!, please check the Galactic Map and add your nation. Bauglir Zero 23:31, June 26, 2012 (UTC)
MY NEW MAP GAME HAS BEGUN! Bfoxius 21:25, June 27, 2012 (UTC)BFOXIUS
Create your tribe page if you'd like to participate. :) Doctor261 (Talk to Doctor261) 06:09, June 29, 2012 (UTC)
Unknown Landmass
You will be needed shortly to edit the map in Unknown Landmass CourageousLife (talk) 17:13, July 8, 2012 (UTC)
1914 British Fire
The Games Have Begun:) Wavy? What now, its so bouncy (talk) 19:09, February 3, 2013 (UTC)
USSR offers Great Germany an alliance and asks if Great Germany will work on the nuclear superbomb with USSR. (DeanSims: Talk) 21:49, February 3, 2013 (UTC)
Great! That is awesome. Also, I learned that Hitler hadnt actauly started killing Jews til the mid 1941, he actualy wanted to send them to some African colony, most notably Madgascar. Send your Jews to me, and I will settle themm in Siberia while they do Nukle research for us. (DeanSims: Talk) 21:32, February 4, 2013 (UTC)
how can we convince you to allow them to get there, the USSR will take them offf your hands and save your a lot fo travel moeny, we will pay for there travel as well, we would take them from Germany straight ot the USSR
Well the USSR no longer is ruled by Stalin, hes dead, and it is now ruled by Trotsky, so that could provide butterflies enough to have you send at least some of your scientific ones like Albert Einstein and others. (Fear the Mutated Dean Sims Bomb, Fear It)
Lad of Opportunity
Look at the algorythm to see if Spain won Daxus Inferno (talk)
Get over here! Daxus Inferno (talk) 14:53, March 2, 2013 (UTC)
The second game has started Daxus Inferno (talk) 03:06, March 9, 2013 (UTC)
Night of the Living Alternate History 
I invite you to participate in the Night of the Living Alternate History. There are many nations still available, and we should be starting soon. Mscoree (talk) 17:14, March 27, 2013 (UTC)
Hello, Argentina here, I really like the flag you have and was wondering if you have any good or unique ideas on one i could make for a combined Argentina and Chile - Uk style (hopefully incorporating their flags into one)G greg e (talk) 23:32, April 11, 2013 (UTC)
Hello, I was wondering if you wished to attended a summit, most likely in 1978 discussing the creation of an OTL UN style organization. Also provided your nation is clear of infection, you will receive an invite to the 1978 World Cup located in the United Republics G greg e (talk) 22:57, April 14, 2013 (UTC)
Hey, would you want to establish a colonly on the tip of Baja california? Id be interested in assisting you G greg e (talk) 02:31, May 13, 2013 (UTC)
Hey are you still involved and active in NotLAH? If not can i take control of the Baja Colony. G greg e (talk) 03:19, June 19, 2013 (UTC)
The Eagle's Broken Wing
Can I just point out, it does say secretly on my post, and if America does declare war, can you please explain how they knew? Local Mafia Boss (talk) 15:53, April 6, 2013 (UTC)
Re-post
There was an error with your most recent Night of the Living Alternate History (Map Game) post. Please re-post whatever you were writing. Thanks, Mscoree (talk) 01:11, April 17, 2013 (UTC)
Day of Infamy
Hey, can I help with "A Day of Infamy?" I see a lot of potential, and would like to get some experience building TL's before I take the plunge to make my own TL. Reximus55 (talk) 03:07, April 25, 2013 (UTC)
Rebuild (Map Game)
You cannot have N. Florida.  It is implausable due to NASA and strong US presence due to Cuba.  Other states are ok.Daeseunglim (talk) 00:22, May 3, 2013 (UTC)
South American Rising (Map Game) needs you. Cool nations are still open DS|Fear the Mutated Dean Sims Bomb, Fear It 21:23, May 6, 2013 (UTC)
Futura Terra Map Game
You're invited to the map game that is soon going to be release called Futura Terra. It is on it's own separate wiki and is still under development by. Feel free to message me back if you're interested.

The link to the game: http://futura-terra-map-game.wikia.com/wiki/Futura_Terra_Map_Game_Wiki

Best Regards,
Edboy452 (talk) 01:42, May 7, 2013 (UTC)
Can you support me in my war on communism? It would be a great help, even just supplies G greg e (talk) 21:30, May 14, 2013 (UTC)
Battle for Earth: Prime
Can I use your nation from the Battle for Earth game in the new Battle for Earth: Prime timeline? Specifically I was thinking of the Saalerbrian (?) nation.
Thanks,
Monster Pumpkin (talk) 14:28, June 2, 2013 (UTC)\
Human history
Sure thing!
Can I mod?

   Flectere si nequeos superos- Acheronta Movebo!  20:07, November 28, 2013 (UTC)
ill post the map on here because well i suck with formating is that ok? also what about semi sedetary? still counts as a city? Nkbeeching (talk) 00:11, November 29, 2013 (UTC)
here is the position i think anyways i plan on moving towards th closest body of water later on though abandoning the original position though i dont know where the body of water will be , leaving behind the culture as i go in the future.
Nkbeeching (talk) 00:34, November 29, 2013 (UTC)
Can I be a Mod please?


"Sleeps with the fishes" "An Offer you Can't Refuse." "Make a wish. It'll be your last"

I understand Morgan Freeman (talk)
Hey Weg! I am not sure as of now but I was wondering if you would require me as a neutral mod (for now) and I might join the game later on. :) 
Imp (Say Hi?!) 23:52, November 30, 2013 (UTC)
So... It's december the 8th and we still haven't started, is this dead? Mr YOLO (talk) 11:39, December 8, 2013 (UTC)
I am currently unable to edit maps. Put me wherever you want, and I am not inactive.


"Sleeps with the fishes" "An Offer you Can't Refuse." "Make a wish. It'll be your last"

I am not inactive, I could not edit the map. I informed you of this fact. Do not do that again, thank you. Mafia CBA doing his signature. Don't judge Him. This Sig is inspired by Guns. 21:47, December 10, 2013 (UTC)
hoji and position three
i was planning on the lowlaanders having a larger population and eventually remaining in the area while the highlanders whichi will take will eventually become Wei and establish a city along the closest coastline to the south east and from there ill start developing my people, the Wei not sure how to really go about naming. Nkbeeching (talk) 02:11, December 10, 2013 (UTC)
alright thnks ill have the wei as a sort of phsuedo sino-japanese culture based on sea faring and expansion in the southern part of the continent as well as an honor code while the lowlander hoji well i dont know they will no longer be me mostlikely they will develop into a chinese sort of culture but with a theocratic state based on well  iguess substanence farming and conservative traditions inland.
question can it sufficiently far away from the hoji in a semi tropical area, i konw im asking alot i didnt know where to pick initially in the game. im fine with waiting one or two turnsNkbeeching (talk) 02:27, December 10, 2013 (UTC)
alright thanks for the info
new details on the position of the hoji and Wei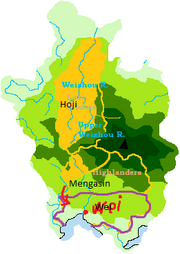 Community content is available under
CC-BY-SA
unless otherwise noted.