Province of Vancouver Island
Провинция Острова Ванкувера
— Governorate of Alaska —
Timeline: Russian America
OTL equivalent: Alberni-Clayoquot, Capital, Comox Valley, Cowichan Valley, Nanaimo, San Juan, and portions of
Mount Waddington and Strathcona.


Flag of Vancouver Island

Location of Vancouver Island

Capital
Victoria
Largest city
Nanaimo
Other cities
Campbell River, Courtenay
Language
  official
 
English and Russian
  others
Chinese, German, Punjabi
Religion
  main
 
Anglicans and Pentecostals
  others
Baptists, Eastern Orthodox
Ethnic groups
  main
 
English and Russians
  others
Han Chinese, Germans, Scots
Demonym
Vancouver Islander
Governor
Ivanna Bryuer (Civil Alliance)
Area
36,067 km² (31,692 кв. врс) 
Population
1,875,541 (2017 Census) 
Time zone
AKEST (UTC-8)
  summer
AKEDT (UTC-7)
Abbreviations
AK-VC, О.В. (O.V.)
The Province of Vancouver Island (Russian: Провинция Острова Ванкувера, Provintsiya Ostrova Vankuvera), colloquially known as Vancouver Island (Остров Ванкувер, Ostrov Vankuver), is an insular governorate of Alaska. Located off the coast of Columbia, Vancouver Island is the largest island in the Pacific Ocean (east of New Zealand). Unique to Alaska, the vast majority of the population is comprised of Dougs and other English-speaking Alaskans.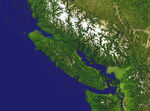 The islands were initially sought after by the British and the Spanish to the point of almost going to war. Spanish interests in the islands ceased during the 19th Century, at which point they fully became a British colony. The islands became part of the Russian Empire following the Columbia Sale in 1867. Throughout Russian rule, attempts to fully Russify the islands proved ineffective. With the outbreak of the Russian Revolution, Vancouver Island and New Westminster would become the cores of the break-away Commonwealth of Columbia (which would later rejoin Alaska in 1931). Vancouver Island was upgraded to a full governorate in 1945.
As with Columbia and the Queen Charlotte Islands, Vancouver Island recognizes both English and Russian as gubernial languages (with high levels of bilingualism). Those of English descent (colloquially known as Dougs) make up the majority of the governorate's population. Germans, Russians, Scots, and Ukrainians are also prominent. The governorate has the highest concentration of Anglicans and Protestants in Alaska. Vancouver Island has been politically dominated by the centrist Evergreens and the right-wing, Doug-minded Civil Alliance.


This Russian America related article is a stub. Please add suggestions on the talk page.
Community content is available under
CC-BY-SA
unless otherwise noted.