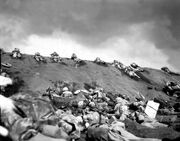 The African War, also referred to as the Another addition to the British Empire, was a colonial war that started in October 1935 and ended in february 1948. The war was fought between the armed forces of the British Empire and the armed forces of the Free African Nations. The War started with the british overwhelming FAN forces, but thanks to FAN's motive and strategy the lines stablized. But however Brave FAN may be The British, after a decade old of warfare maged to crack open FAN's defences. But luck was runing out from the empire as the Great war Started and the British had move most of their forces to Europe and sign a peace accord with FAN.  The war resulted in almost the entire military occupation of FAN. Although defeated in the conflict, there is a huge numbers of stories telling about British bravery in the War as the lines stabilized and the war became stand still. One of them is the legendry tale of two queen's rangers who fought off 35 FAN's soldiers before dying of bleeding and a FAN victory.
Politically, The War is viewed as the first British major defeat in the 20th century. With the Start of the Great War, many in Britannia saw the African War as not important war and they believed that the GRC will be a threat that FAN can never be. With the defeat of the GRC, many of the public in Britannia saw the War in Africa as a missed opportunity, one that needs to resolve. However FAN's independent Supports gave nuclear secrets to them that was developed in the war. As Britannia Prepared to invade once again FAN, they were shocked at the sight of the Nuclear Experiment in FAN territory seen Worldwide, canceling the invasion.
The negative outcome of the war for the British caused the British to overlook the FAN's military buildup in the time of the Great War and eventually a cold war between them.
Community content is available under
CC-BY-SA
unless otherwise noted.