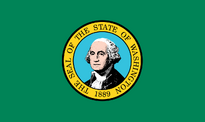 Washington is a state in the Pacific Northwest region of the United States located south of British Columbia, Canada, north of Oregon and west of Idaho. Washington was carved out of the western part of Washington Territory which had been ceded by Britain in 1846 by the Oregon Treaty as settlement of the Oregon Boundary Dispute. It was admitted to the Union as the forty-second state in 1889.
The 2010 United States Census recorded the state's population at 6,724,540. Almost 60 percent of Washington's residents live in the Seattle metropolitan area, the center of transportation, business, and industry along the Puget Sound region of the Salish Sea. The remainder of the state consists of deep rain forests in the west, mountain ranges in the center, northeast and far southeast, and eastern semi-deserts given over to intensive agriculture.
Washington was named after George Washington, the first President of the United States, and is the only U.S. state named after a president. Washington is commonly called Washington state or occasionally the State of Washington to distinguish it from the U.S. capital (and because its proper name is the State of Washington). However, Washingtonians (residents of Washington) and many residents of neighboring states normally refer to the state simply as "Washington", while usually referring to the nation's capital as "Washington, D.C." or simply "D.C."
Alternate versions of Washington have been discovered throughout the multiverse, but not all of them resided in the same geographic location:
Alternate versions of Washington have been found to be part of other nations in the multiverse:
---
Community content is available under
CC-BY-SA
unless otherwise noted.