Wenceslaus I
Wenceslaus I
King of Bohemia (As Wenceslaus IV) & Duke of Luxembourg
Reign
12th June, 1374 - 1st November, 1400
Predecessor
Charles I
Successor
Charles II
King of Hungary (As Wenceslaus II)
Reign
1387 - 1st November, 1400
Predecessor
Adelaide
Successor
Charles II
Margrave of Brandenburg
Reign
1373 - 1st November, 1400
Predecessor
Otto VII of Bavaria
Successor
Charles II
Holy Roman Emperor
Reign
25th December, 1386 - 1st November, 1400
Predecessor
Olaf
Successor
Charles IV
Born
27th October, 1337
Prague, Bohemia
Died
1st November, 1400
Buda, Hungary
Spouse
Adelaide of Hungary
Issue
Elizabeth


Charles II
Jobst
Joanna
Wenceslaus
Catherine
Agnes

House
Luxembourg-Limburg
Father
Charles I
Mother
Eleanor of Bar
Wenceslaus I, Wenceslaus II in Hungary, Wenceslaus IV in Bohemia, was the eldest son of Charles I, and would be the beneficiary of decades of political scheming and luck which delivered him a potentially vast empire even before he inherited his father's lands. Ultimately however was unable to quell dissent or establish his total rule.
In 1350 he was betrothed to Adelaide of Hungary, John I of Poland & Hungary's eldest child (though they would not actually marry until 1363 after receiving papal dispensation for their close familial relations). Though the marriage was sought only for diplomatic gain in 1375 her brother Charles died leaving Adelaide as the successor to both of thrones. John had ceded various rights away to his nobles to ensure his daughter's succession and on his death in 1382 in Hungary they duly elected Adelaide his successor, fully aware that meant eventual rule by a Luxembourg king. In Poland however the nobles had no desire to be ruled in union again, especially not from Prague, and would elect Adelaide's sister Hedwig, or Jadwiga, instead. This was protested by the Hungarian nobles who urged war against the Poles.
In 1383 Wenceslaus would indeed invade Poland to force Jadwiga aside though it would not just be the Poles he would face on the battlefield.
His father had presented him with Brandenburg in 1373 which had been purchased, for 500,000 gilders, from the idle and neglectful Otto VII of Bavaria. It had lost its Imperial Electorate, which Olaf had given to Wurttemberg but remained a wealthy and stable territory. Its lords had frequently chafed against Wittelsbach rule and were cautiously optimistic about Wenceslaus. They did however urge his action against Denmark and Pomerania to extend the territory to the Baltic. This and Wenceslaus' attempts to dominate Sorbia, long a Danish ally only hardened Danish opinion against him. Denmark would therefore be present in the Polish alliance, as would the Teutonic Knights who were broadly anti-Luxembourg, which met him at Trzebnica and Jezierzyca River when he invaded Poland in early 1383. Close fought, Wenceslaus barely escaped Jezierzyca River with his life. The defeats shook him and he made peace with Jadwiga to concentrate on other matters in Germany.
Adding to Brandenburg and Hungary, Wenceslaus had inherited Bohemia and Luxembourg (now a duchy) too from his dying father in 1374. This vast collection of territories made him the pre-eminent ruler in Germany if not Europe and so when Emperor Olaf died in 1383 it seemed only natural that Wenceslaus would succeed him. Of course no election in Germany could run as smooth as that and for three years a civil war raged between Wenceslaus and his great rival Rupert of Wittelsbach. Rupert continued to have the support of much of the Rhineland, Austria and Bavaria, along with Denmark whose king Valdemar II took considerable glee in besieging castles in Brandenburg then sending their flags to Wenceslaus in Prague or Buda as a boast.
What had carried much support for him during the civil war was his attempts to resolve the Papal schism. Clement VI had been run-out of Rome in 1349 and his successor Innocent VI resided in France. Against him, the anti-pope Anastasius V had been proclaimed by the populace of Rome whilst Olaf had promoted another anti-pope who sat in Pisa, John XXIII. The problem of John XXIII was solved merely by waiting for his death in 1384. Innocent VI had been persuaded to come to Genoa that same year. The whole of 1385 was taken up with bickering between the two camps with Innocent being supported by Rupert of Wittelsbach and Wenceslaus taking up Anastasius's cause.
Eventually Rupert's defeat at the Battle of Deggendorf left Wenceslaus in total control of Germany. Treaties with both Rupert and Valdemar II signified the end of the war and opened the way for Wenceslaus' coronation as emperor. It also removed Innocent's support, now only backed by France and a few other states. Anastasius V would be confirmed as the true pope and he would crown both Wenceslaus and Adelaide on Christmas Day 1386.
A year later Wenceslaus would be crowned as joint-ruler of Hungary following the Battles of Đakovo and Nicopolis against Byzantium. This seemed to trigger yet more violence as to the south the Kingdom of Serbia was in the throes of dissolution and across the Adriatic Naples, long ruled by the Bezier family, was under severe pressure from Aragon.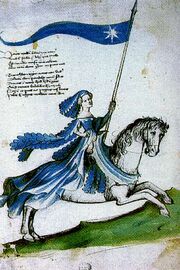 Whilst his queen sponsored Hungarian involvement in Naples, winning a couple of victories over Aragon which in the end would only slow their advance, Wenceslaus advocated a plan to completely revive Imperial dominion over Italia. This would not only create a strong state to ward off the likes of Aragon or France but could also be used to dominate the Papacy. Of course this 'first step' would turn out to be an insurmountable mountain. Olaf's victories over Florence in 1372 had restored some semblance of authority but Wenceslaus was seeking to extend this, recreating a true united Kingdom of Lombardy to match his title of 'King of Italy' which, of course, would be a Luxembourg possession. While the concerted effort to end the schism was painful but successful, actually bending the Italian states to accept his direct rule only stirred up antagonism. He would be forced to campaign in 1388, 1389 and 1395 against various deep rooted revolts. Eventually in 1395 he conceded at least a partial defeat, selling the title of Duke of Milan to the hugely wealthy Gian Galeazzo Visconti who would in his own way, try to establish a kingdom. Wenceslaus would fall back to sending Hungarian armies direct to Naples stemming their decline for now.
This concentration on matters in Italia and Hungary gave others a leeway to enjoy. France especially, leapt on the chance to extend its limited remit and eagerly concluded an alliance with Wenceslaus' great rival Rupert of Wittelsbach who still plotted and schemed. There was a large portion of the empire which was francophone and not especially loyal to Wenceslaus, so when John II and his regents extended relations to various petty duchies such as Bar (which was ruled by Wenceslaus' cousin), they were cautiously accepted. Meanwhile Anglia, nominally allied to Wenceslaus, could dictate terms to the Low Countries. Though their activities would keep the region loyal to the Emperor they did little to aid him directly and Wittelsbach Holland was allowed to remain untouched, even after 1394 when Rupert restarted the civil war.
His wars against Wenceslaus would come close to toppling him on several occasions. As did revolt in Bohemia which seemed to follow his every move. Though in Hungary he would rule in his own right after Adelaide's death in 1395, he again was made to reaffirm the nobles' right of election.
Wenceslaus died in 1400 of a heart attack, apparently exhausted from his efforts to run half of Europe in face of near constant hostility. All the Luxembourg territories, and the Imperial crown, were inherited by his eldest son Charles though he would try and take a looser approach to government.
Rulers of Hungary

11th Century

Stephen I • Peter Orselo • Samuel Aba • Peter Orselo • Andrew I • Bela I • Solomon • Geza I • Ladislaus I • Coloman

12th Century

Stephen II • Bela II • Geza II • Stephen III • Ladislaus II • Stephen IV • Bela III • Emeric

13th Century

Ladislaus III • Andrew II • Bela IV • Stephen V • Ladislaus IV • Andrew III

14th Century

15th Century

16th Century

17th Century

Louis I • Louis II • Mary • Catherine • Josef I • Josef II

18th Century

Louis III • Nikolaus I • Josef III

19th Century

Stephen VII • Nikolaus II

20th Century

Louis IV • Charles III • Louis V • Josef IV
The Kalmar Union TL Articles

Nations
Timelines
Military
Miscellaneous
The Kalmar Union
Community content is available under
CC-BY-SA
unless otherwise noted.