West African Union
Timeline: 1983: Doomsday

Flag
Badge

Members of the West African Union.

Administrative Centers
Lagos, Abidjan
Language
English, French
Area
2,065,753 km2
Established
July 7th 1999
Currency
West African Franc
The West African Union is an economic and military alliance of West African states.
Organization
Basic Principles
The West African Union was founded on the basis of mutual economic, political, and military co-operation, as well as the principles of democracy and balanced economic policies. Most of the policies and principles of the union are based on economic, social, and political theories put forth by Ishe Adeyemi, collectively known as Adeyemist principles. All member nations must agree to certain factors when joining the Union. Once agreed, it is the responsibility of the Union and its members to ensure that all members adhere to the laws and limits set forth by the union. The laws and limits member nations must adhere to are as follows:
Must agree to limits on state regulation of industry, both upper and lower. A free market economy is believed to provide a higher standard of living than a socialised economy, but with sufficient regulation to avoid exploitation of workers. Only resource and essential service industries may be nationalised.
Must maintain a minimum level of public education. This must be free for all citizens, and educational conditions must meet agreed upon levels.
Must have free and fair elections. Elections are overseen by the WAU Comittee for Stable and Effective Government.
Must have a minimum level of anti-corruption laws or measures.
Must maintain the basic principles of freedom of expression, including free speech and freedom of religion.
Must adopt the common currency of the union. This was agreed to be the West African Franc, as the majority of West African countries already used the currency and this would make adoption by new members easier.
Any member nation who violates these principles is subject to sanctions and possible military action.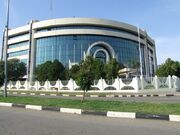 General Council
The WAU General Council is headquartered in Lagos, Nigeria. The General Council is the main administration and legislative branch of the West African Union. This branch determines official policy of the union, drafts inter-member laws, and provides a forum for members to air grievances against other member nations. It oversees the process of admitting new members, and whether or not action is required against a member who violate union agreements. The council is made up of three representatives from each member nation appointed by their nation's government.
Defence Council
The WAU Defence Council is headquartered in Abidjan, Ivory Coast. The Defence Council determines military policy and co-ordinates joint military operations between member states. The Defence Council also determines a course of action to take in the event of a member nation violating Union agreements. The council is made up of four representatives of each member nation, one for each branch of the armed forces, Army, Navy and Air Force, as well as a civilian representative. These representatives are appointed by the government of their nations.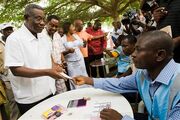 Economic Council
The WAU Economic Council is headquartered in Lagos, Nigeria. It determines economic policy of the union and oversees trade between member nations. It is made up of two representatives from each member nation, a government appointed representative, and an elected representative.
Other Councils and Committees
WAU Committee for Stable and Effective Government - Main purpose is to maintain stable, free, effective government in member nations, as well as aid prospective members in achieving such a goal.
WAU Committee for the Advancement of Education - Main purpose is to maintain a minimum standard of education in member nations, as well as aid prospective members in achieving such a goal
WAU Council for Religious Unity - Maintains a forum for religious leaders to bring forth grievances against other groups and pass judgment in order to avoid religious unrest in member nations.
WAU Economic Development Commission - Aids members and prospective members in developing diverse economic strategies, and modern industrial methods.
Members
Founding Members
Other Members
Prospective Members
Several nations have expressed interest in joining the WAU, but either don't meet membership requirements such as a democratically elected government, or are in such a state of disarray that the effectiveness of the central government makes WAU reforms impossible to implement. Such nations are:
Mali - Unwilling to meet educational requirements until economic situation stabilizes.
Some nations have applied for membership of the WAU
Bioko - This island nation was occupied by WAU forces 2006-2016, with an economy closely tied to the WAU nations; however, enough member states have been skeptical of its small size and young, fragile democracy to limit it to an "associate membership" for now.
Botswana - Applying to become an ally only.
Some nations have not applied for membership despite being located in West Africa
Monrovia - Part of the Safe Harbor Compact.