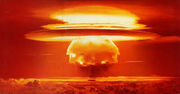 Why don't the US simply nuke the Nazis?
Possible reasons:
Manhattan Project

cancelled
Bad conscience because of e.g. many thousands dead Japanese

Luftwaffe

too good (no help though against ICBMs)

Communism

seen as more dangerous
Peaceful coexistence
Nazis have nukes too (horror!)
Just fed up with big causes
"V3" exploding over

New York

Nazis threaten to kill even more Slavs in case the Allies nuke

Germany

- or French, even
Hope that "after Hitler, things will improve". (But compare how Stalin followed Lenin...)
Bogged down in 'Nam or so
Too expensive (Anglo economy suffers since European markets stay closed!)
Fear for the scarce young men
Nuclear winter to be avoided? Discovered how, when? (1952, after hydrogen bomb tests.)
And why not the Soviet Union? Unless they simply have none...