Zaragoza
Zaragoza (Aragonese, Castilian and Basque)
Saragossa(Catalan and Occitan)
سرقسطة (Arabic: Saraqusta)
Saragosa (Ladino: בורגוס)
Caesaraugusta (Latin)
Timeline: Of Lions and Falcons
OTL equivalent: Zaragoza

Municipal seal
Basilica of Our Lady of the Pillar and the Ebro River

Country
Crown of Aragón
Language
  official
 
Navarro-Aragonese, Catalan and Latin
  others
Basque, Castilian, Ladino, Mozarabic, Ladino and Arabic
Religion
  main
 
Catholicism
  others
Judaism and Islam
Founded
Roman
Zaragoza is the capital of Crown of Aragón. It lies by the Ebro river and its tributaries, the Huerva and the Gállego, roughly in the center of both Aragon and the Ebro basin.
From 1018 to 1110, Zaragoza was one of the last taifa kingdoms, independent Muslim states which emerged in the eleventh century following the destruction of the Caliphate of Córdoba. In 1110 occupied by the Almoravid, who keep the ruling family as governors. On 18 December 1118, the Aragonese led by Alfonso I conquered the city from the Almoravids and made it the capital of the Kingdom of Aragon. Briefly occupied by Alfonso VII of León and Castile (1134-1136).
Zaragoza, besides being the capital of the Kingdom, is also the place of coronation of the Crown of Aragón and seat of the sessions of the Cortes of Aragón.
One of the main landmarks of Zaragoza is the Aljafería Palace, the royal residence.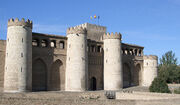 ---
Community content is available under
CC-BY-SA
unless otherwise noted.